Oh the things you can do with stencil, you can transform pretty much anything. Below are some pretty fabulous stenciling creations!

I love Stenciled Floors, its an easy way to freshen up an old drab space!



Fabulous. Great design and love the color choice.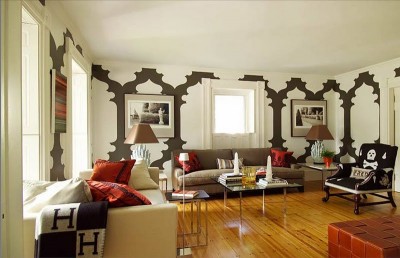 Very unique way to stencil a room, I would love to try this!



Great way to freshen up an rickety old staircase.



I actually just bought a very similar lattice stencil like this. I really want to stencil the backs of my bookshelves.



I like how they made this stencil look faded, it was lightly brushed on. It gives it a vintage feel.



Oh how I love Grey!!



Great way to update furniture!



Photo's Via:

Praire

Perch, Isabella and Max Rooms, Studio be Creative Juice, Pretty

Haus

, Style Files, Dream Green

DIY

, Danielle

Oakey

Interior, Stay at Home Artist,

Houzz

,

Etsy